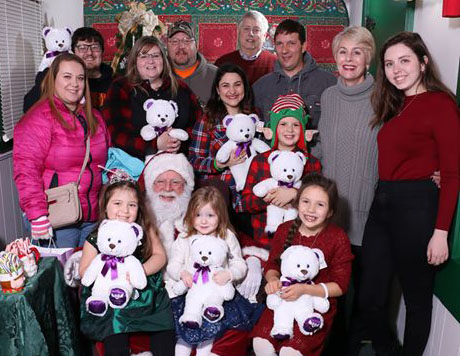 We knew from the beginning our Heartbeat Bears were very unique. They were designed to provide comfort to the recipient while being user-friendly for the individual recording the heartbeat. Of course, our initial target audience was our Catherine Cares' families – families of babies who receive a prenatal or newborn life-threatening diagnosis. But even while we were in the designing stages, we believed our bears would service additional purposes… we just didn't know where they were needed at the time. Earlier this year we discovered one of those purposes – an important and impactful purpose for our Heartbeat Bears.
In the spring of 2019, the St Louis Cardinals hosted a Transplant Awareness Day at Busch Stadium. You might remember the news story of a donor's family listening to the heartbeat of their brother within the chest of the heart recipient. It was an emotional and coincidental meeting. A very special bond and friendship started that day all because a young man named Donovan made his wishes very well known – he wanted to be an organ donor.
This story left an impression on our organization. The emotionally raw video of Donovan's family desperate to feel connected to their brother through the sound of his heartbeat was a feeling we could most certainly relate to. We knew very quickly we needed to get this family a Heartbeat Bear.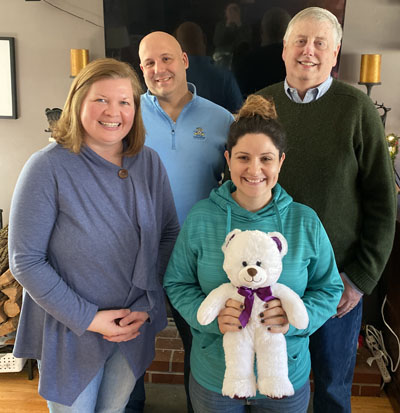 Early in December, we met with Donovan's sister, Savannah, and the heart recipient, John, and his family. John brought a heartbeat recording from his last cardiologist appointment. We recorded Donovan's heartbeat within John's chest on 8 Heartbeat Bears – one for each member of Donovan's family. It was a special afternoon. We aren't usually the ones making heartbeat recordings. The heartbeats for Catherine Cares' families are usually recorded at a hospital or doctor's office. But this afternoon, we were responsible for capturing the recording. Those 8 bears were on a very special mission which we had to help them fulfill. We had a unique sense of responsibility for those 8 bears. It was intense!
While making the recordings was our focus, there was more to our time together. We were getting to know two very special families. While we started as strangers and while each of our three families have different stories, we were all connected through loss, gratitude and love. We shared our stories with each other. We cried together. We hugged. We wrapped the newly recorded Bears to prepare them for their ultimate destinations. And we took pictures to remember our time together.
In preparation for this gathering, I was worried about the logistics and making sure we had what we needed to complete our tasks. What I didn't prepare myself for was the real emotions from our time together. It was a profound experience. And it was a privilege to be able to prepare the Heartbeat Bears for Donovan's family.
The following week, Donovan's family received their very special gifts.
Watching the many emotions on the faces of each family member reminds us how important memories of loved ones gone too soon are. Each person held their Heartbeat Bear with great affection and care. It is more than a teddy bear; it is a tangible and direct link to their son, brother and uncle. To this family, the Heartbeat Bear is priceless. Mission Accomplished!
Catherine Cares' ability to provide heart donors' families the gift of their loved one's heartbeat within a soft, cuddly bear is yet another powerful reason our Heartbeat Bears are so special.
As for Donovan, we are in awe of his selfless act and the gift he gave to John and his family.
And we are honored to play a very small role in uplifting Donovan's family this holiday season.
~Lauren
---