This was the moment I refused to think about or prepare for in advance. As a planner, a Type A personality, my mind wanted to be prepared for every possible situation but I just couldn't with this one. My heart was in charge in this moment. My heart had physically ached every day since the diagnosis 14 weeks ago. My heart was broken and now here we were. Everything had played out. And here I was at the very moment I prevented myself from thinking about or preparing for. This was the moment my heart was dreading.
I had given birth to our second daughter 12 hours earlier. And now I was being discharged. The orderly was pushing my wheelchair out of my postpartum room. I was leaving with empty arms. My daughter had just passed away 11 hours ago. I was leaving the hospital without my new, precious baby girl.
—–
Mid-September 2014, I was 20 weeks pregnant with our second child. Our oldest, Madeline, was almost 19 months. My February 2015, due date meant our two children would be exactly two years apart. We were slowly preparing for this next stage of parenting: changing two sets of diapers, sleep deprivation, nursing, where to put our second child in our two bedroom home, how to balance a toddler with a newborn as well as all of the other joys that come with finding out you are expecting your second child.
We scheduled our regular OB appointments and ultrasounds. We decided to skip genetic testing again. There was no reason to be concerned and we wanted the gender to be a surprise in the delivery room with this baby as well. Besides chasing around a toddler while being pregnant, this pregnancy was moving along just like my first – par for the course.
My 20-week growth ultrasound was scheduled for September 22. We woke up that morning having no idea this would be the day our hearts would break. This was the day our lives were put on hold. Our world stopped. This was the first day of our new, devastating journey and when we became aware of the very short time we would have with our second daughter, who we named Catherine Marie.
It was at this appointment we first learned about the long list of health concerns for our Catherine:
Several heart defects.
Water on the brain and other brain abnormalities.
Intestines in a pouch outside of her body.
Not measuring at the appropriate gestational age.
Left Hand clinched.
As the doctor shared her list of concerns, my heart immediately began to hurt. As worried and shocked as I was sitting there listening to this long list of issues, I kept asking myself "How am I going to be a good mother to Madeline when my world is shattering around me?"
As a result of this appointment, time stood still for our family. We didn't know exactly how things were going to play out. But what we did know was that it was highly unlikely we were going to bring our beautiful baby girl home with us. Her sweet body was not made for this world.
As we tried to accept this devastating reality, the rest of the story was completely up in the air. Would Catherine make it to her due date? Would I go into preterm labor? Would she be liveborn? How long would we have with her? Would she need to spend time in the NICU? Would Madeline be able to meet her little sister? Would we have time to baptize her? Would other family members meet her? Where would she be buried? What did we want her funeral to be like? It was all consuming, extremely emotional and overwhelming.
I remember rocking in the recliner at home after my 20-week growth ultrasound wishing I could fast forward the next 20 weeks. I wanted to know how everything played out so my questions could be answered. And yet at the same time, I wanted to extend and stretch out this pregnancy as long as possible to be physically close to Catherine and to get to know every little thing about her while I still could.
As the weeks rolled on, we experienced great love and support from family, friends and our outstanding doctors and nurses. We soldiered on in between doctor appointments and ultrasounds. Crying and trying to prepare became part of our regular routine. We included Catherine in everything we did. We celebrated Halloween, Thanksgiving and Christmas as a family of four. No matter how hard we tried to keep on living, it was always in the back of our minds… What does Catherine's journey look like?
My due date was 7 weeks away. My last ultrasound showed no signs of pre-term labor. My doctor even thought I might go full term. But that wasn't Catherine's plan. Late on December 29th I went into labor while I was trying to fall asleep. I waited a few hours to tell Wayne because the contractions were mild. I needed some time to process what was happening. And I needed him rested. I was strangely calm. About 2am, I finally woke Wayne up and we called the exchange. My doctor happened to be on call. She wanted me to come to the hospital, but I could wait until my contractions became more regular and/or intense. After hanging up, we decided to get ready for the hospital anyway. We weren't going to sleep at this point and we had a few things to take care of like packing our bags. My sister arrived to stay with Madeline. She helped me locate a little baby outfit of Madeline's for Catherine to wear. While we were moving the tub, I had to pause while I contracted. With a 25 minute drive ahead of us, we decided it was time to go. We left for the hospital at 4:30am on December 30th. On the way my contractions became much more intense. I was now bracing myself and breathing through them as they checked us in at triage. During the exam everyone was surprised to discover I was 100% effaced and 8cm dilated. This kicked me into transition. I was experiencing transition in the elevator up to the delivery room while sitting in a wheelchair. This part, in particular, was no fun. Approximately 8 doctors and nurses were waiting in the delivery room for us. Some were there for me and my care. Most were there for Catherine.
I wasn't in the delivery room long before it was time to push. I was nervous about this part because of my first experience with labor. I labored with Madeline for 27 hours and pushed for 3 of those hours. Her delivery ended in a c-section. I did not want another c-section for many reasons: being at the hospital for days recovering most likely without my baby to hold, having to recover physically from major surgery, being away from Wayne, being away from Madeline who really didn't understand what was happening around her, and just being alone sitting in the hospital. I did not want to be alone. I needed to be surrounded by those who love me in a familiar space.
Things were happening so quickly, there was no time for an epidural. I was going to have to bear down feeling every single sensation that comes with a drug free vaginal birth so I could meet my baby girl.
It was time to push. I pushed twice. It was like I had never done this before. I knew I wasn't doing it right. My mind started to wonder, "Can I do this? Am I strong enough? I should have taken a refresher course. I do not want a c-section." I could tell I was going to a not so good place in my mind which was affecting me physically. I had to set myself straight. I began screaming at myself… all in my mind that is, "Listen here, Lauren. You ARE going to have this baby vaginally. You don't have a choice. So you gather up every ounce of strength you have and you push that baby out. You CAN and you WILL." I asked the nurses for a few pushing pointers and I got to it. It worked. She began to move. We were doing it.
Twenty five minutes later, Catherine Marie was born at 6:45am. She was only 33 weeks, 7 weeks early. She weighted 2 pounds 5 ounces and was 15 inches long.
After that last push and I knew Catherine was here, the first thing I heard was Wayne ask for us, "Is she alive?" Something I never pictured us having to ask right after I gave birth. They told us, "Yes". But that is all I knew. Catherine was taken over to the warming bed. Doctors and nurses began working with her while I was dealing with the after birth. I asked Wayne to stay with Catherine.
Not having given birth vaginally to Madeline, I did not appreciate the wild adrenaline rush one has after giving birth with the wave of emotions and hormone releases. I became very chatty. I'm not exactly sure what I was saying. What I didn't realize from the delivering bed was what was happening at the warming bed. As Catherine's father, Wayne was bombarded with questions from the doctors regarding our wishes for Catherine after birth. The medical team had to double and triple check decisions before taking any action. Time was of the essence so these questions came at Wayne fast and furious. It was overwhelming and unexpected but so was everything thus far on Catherine's birthday.
Everyone in the room knew our wishes for Catherine was comfort care, not extraordinary measures. Part of comfort care is to administer an oxygen mask, if required, to help with breathing right after birth. Catherine was not getting enough oxygen which was evident by her gray appearance. Once the doctor had his affirming answers from Wayne, he administered oxygen. Wayne was also asked if we wanted Catherine baptized. We wanted Catherine to be baptized by the same priest who baptized Madeline… if there was time. Wayne asked me what I wanted to do for her baptism. I was not understanding the severity of the situation from 15 feet away so I was asking questions. Unbeknownst to us someone called the hospital's on call deacon while we discussed the situation. About a minute after we decided to have Catherine baptized by the on call deacon, he appeared in the room. Thank goodness someone took action before we did. Catherine was baptized with Wayne and two nurses by her side. The two nurses were declared her godparents. (We had her certificate changed after the fact to reflect her actual godparents, but we appreciated the nurses filling in.) Catherine was baptized and was breathing on her own although it was shallow. She was not in any pain. She was so peaceful. It became clear by the doctor's comments, Catherine would not be with us long. It became everyone's priority to get Catherine swaddled and into my arms as quickly as possible.
Even though it took some time after birth, Catherine and I finally met face to face. My Catherine was in my arms snuggling with me. The doctors had long lists of what wasn't "right" about her body, but to me she was perfect. She had 10 fingers and 10 toes. Her beautiful face was angelic. All I could do was stare and stroke her little cheek. I talked to her. I told her how much I loved her and how happy I was to finally meet her. I told her about her big sister. Wayne was at the head of the bed looking over my shoulder taking in the moment as well. We were together loving on our baby.
What we didn't realize right away was what was happening around us… which was nothing. Nothing was happening. The delivery room was full of doctors and nurses and not one person was moving, charting, cleaning up or taking vitals. The room was still. Tears were quietly being shed and wiped away by many doctors and nurses. Body language was communicating sadness and respect. Our Catherine's life was being honored in the stillness. The doctors and nurses, most of whom we barely knew, were grieving right along with us. They were physically surrounding us with love. It was a powerful and beautiful moment we will never forget.
After some time, the staff excused themselves. Our family was trickling in to meet Catherine, to shed tears and give hugs. Madeline spent time with her sister, but it was all overwhelming for her being only 22 months old. And she wasn't so sure she liked seeing me holding another baby – an age appropriate response regardless of the situation.
It was about an hour after birth. Catherine and I were snuggling and I could tell our Catherine was gone. It was peaceful and free of pain. But I just knew. I asked the nurse to check for a heartbeat. She couldn't find one. Our Catherine's journey was finally over. But our journey, our grieving, our new normal, our story as parents of infancy loss was just beginning.
We spent time with Catherine after she passed. For me, this wasn't strange or uncomfortable. As her mom, I was craving as much time with her as possible. I needed to see her, hold her and kiss her. I needed to insure she knew how much we loved her. Professional pictures were scheduled for that afternoon. I was able to dress her for our pictures. I am grateful for this opportunity to do at least one of my mothering duties. We treasure these beautiful pictures.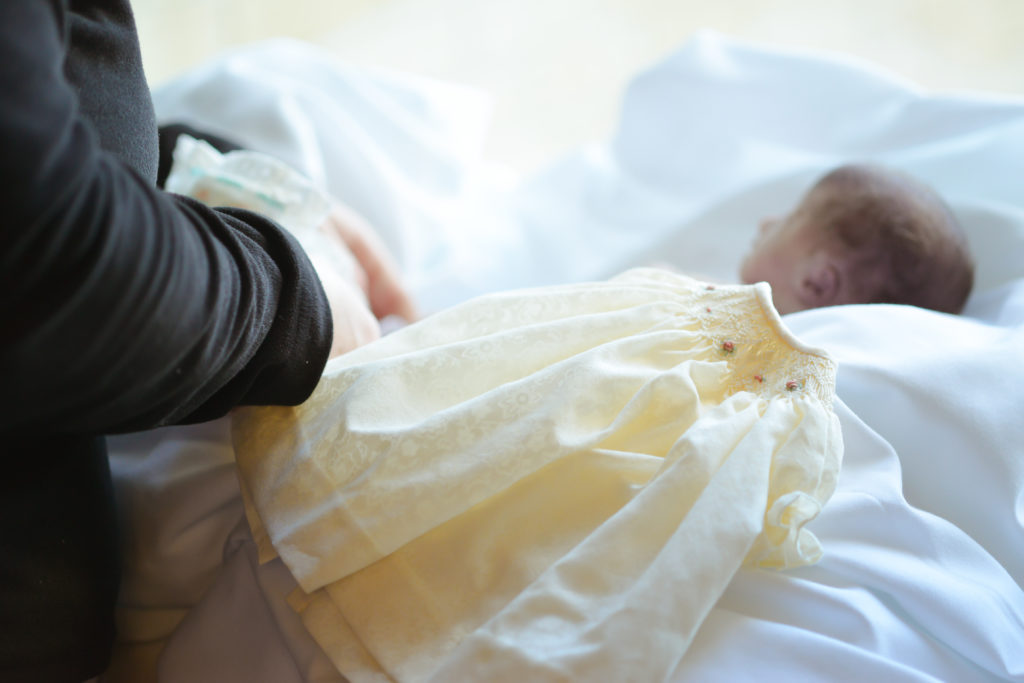 Eventually, it was time to officially say goodbye. I had a few minutes alone with Catherine. I held her close and tight. I kissed her face. I blessed her forehead. I couldn't say goodbye. So I whispered into her ear, "I love you, baby girl. Until we meet again." I handed her to the nurses. And that is the last time I saw our baby. Wayne and I hugged and cried.
It was unknown for a while if my body was well enough to be discharged before Madeline went to bed that night but the doctors thought it might be possible. Later that afternoon, I was given permission to leave. I was discharged just 12 hours after giving birth.
Leaving the hospital was bittersweet. I wanted to be home. However, for me, the absolute hardest part of this day was still to come and I knew it. Of course, it was difficult and extremely painful to say goodbye to our Catherine earlier that day. But I was about to embark on my first and biggest obstacle as a mother of infancy loss. While my mind knew it was only her body which remained at the hospital, this was the first time I would be physically separated from her. Sure, we will meet again someday, God-willing. But for now, my mothering responsibilities were over just as quickly as they began and nothing about that felt natural.
Wayne helped me into the car. As we pulled away from the hospital and the separation between me and Catherine became greater and greater as we journeyed home, all I could do was wail. It was a cry I have never heard me cry before. It was more than just sadness. It was a release of all of the physical pain I was feeling right at that moment. It was the beginning of my journey with grief. It was a mother falling apart. I cried the entire 25-minute ride home.
It was just after 7pm on Catherine's birthday as we headed home. Wayne and I did not want to go home to an empty house so we asked our family to join us for some pizza and drinks. Bringing your baby home from the hospital is a joyous… somewhat terrifying…experience. Being robbed of that opportunity and actually dreading this very moment, we couldn't imagine being alone. Our family helped to fill that void. Eventually people began to leave. Wayne and I were so tired and emotionally drained, we were actually able to get some sleep. This was a good thing as tomorrow we would officially start our messy, emotional and uncomfortable lives as bereaved parents.
To read Catherine's fathers perspective of Catherine's birthday/day she went home, click here.